You may be wondering what Leah has been up to since she graduated from our homeschool.
She'd probably tell you, "Blissfully nothing!" with a big smile on her face.
She has done the following:
gone to bed way too late most nights (despite my reminders to go to bed earlier)
slept in the next morning
draws daily with her graphic art tablet that Ray bought her several years ago
plays video games
helps her friend David with a video game that he's creating and programming, by drawing people and objects for it
chats with her friends Nicholas, Nicole, Morgan, and David on Gmail
watches Star Trek or other sci-fi movies with Ray when he is home from work.
In other words, she's living a completely carefree, irresponsible life!
To be fair, Leah has to help me with household chores each day. She has to help with her own laundry, keep her room clean, and occasional dusting, sweeping, mopping, vacuuming, and washing dishes.
One of her "perks" for getting her driver's license is running errands in town for Ray and me. Ahhh, this is what children are born for! (Just kidding. But it does help us out immensely!)
Every Sunday we attend a small group Bible study, where we worship God together with contemporary songs and hymns on YouTube videos, have a Biblical teaching on using the spiritual gifts and other topics for spiritual growth, talk and pray with our friends, and occasionally have potluck dinners or other activities together. The teen group has become solid friends, and Leah loves going there to hang out with them.
As you can see in the picture below, they like to have fun. Aaron is the one with the sock on his head. Next to him is his brother, David. Second row are Annabelle (Leah's niece), Alex, Rachel, and Mariah. Third row, Violet (Leah's niece) and Abi.
For Bible reading, she and I have been reading through Sarah Young's Jesus Calling: Enjoying Peace in His Presence
*** devotional each day.
Ray has also challenged her, as he has each of our daughters, to read Les Miserables. If Leah accomplishes this, she'll be the first to do it because Heather and Eden dislike reading. (It's a 1,260-page book!) She has started reading it, but I'm not sure how far she's gotten.
But Leah does often read books on her own, even though she's not homeschooling any more. This makes Ray and me happy because we are voracious readers, and believe reading is important. She prefers fiction such as Into the Wild (Warriors, Book 1)
***, but reads other genres of books, too.
Art is her passion. On January 1, 2013, she set a goal to do a "365 art challenge," drawing art of some kind every day for the entire year. Primarily she uses her graphic art tablet.
Leah also is my personal assistant in my Speaking, Writing and Coaching Business at BethJones.net. She's often the unseen videographer for my videos on YouTube and helps me with other administrative tasks. Pictured above, she's working on a special art project for me for our RELEASED Women's Conference.
She went on a family vacation with Ray, me, Heather, and Heather's girls Annabelle and Violet to St. Louis, MO, to see the arch.
My dad bought Leah some brand new luggage for a graduation present, a tradition that he started when I graduated. Then he bought Heather some, and now Leah. Looking back now, I realize it was a prophetic gift, because my desire and my anointing and calling is to go to the nations for God's glory. Heather has a missions calling as well.
Leah doesn't want to travel to as many places as we do, but she does want to go to Ireland and Australia. She was able to quickly use the new luggage when she went on a road trip with Ray for his pastor's ordination ceremony in Texas under River's Edge Church's covering and to visit her mimi, Judy (Ray's mom), and Ray's stepdad Leonard for a couple of days.
But the biggest thing Leah has been doing since graduating is learning how to play the violin!
Here's how it started
You probably think it was my or Ray's idea. Nope. It was Leah's.
Actually, I believe it was God's. I believe He put this desire into her heart to learn to play an instrument.
I believe Leah has dormant gifts that she hasn't even begun to tap into yet, and God is beginning to draw them out Himself.
To my surprise, for Christmas Leah asked for either an electrical violin or keyboard for her gift.
She said she wanted to learn to play the violin and the piano.  Like Mary, I treasured and pondered these things in my heart. (Luke 2:9)
Leah researched violins and pianos, read all the reviews on Amazon and YouTube, and sent me links for the top 3 she wanted the most.
She was inspired to play the electric violin by the incredibly gifted Lindsey Stirling, who plays classical music with a modern hip-hop/pop twist. I LOVE Lindsey's video Crystallize! She is flat out anointed to play the violin. I get chill bumps every time I watch it.
We ordered Leah a violin for Christmas, but she didn't know if we'd bought her the keyboard or the violin. She thought it was the keyboard, from the shape of her polka-dot-wrapping-paper box, so it was a surprise. She had the biggest smile on her face when she opened it.
When the student is ready, the teacher will appear
As soon as Leah told me she wanted a violin, I immediately began praying for the right instructor. We had never covered music in homeschooling, other than a general overview study of the classical musicians like Beethoven and Mozart. I don't know how to play any instrument or read music, and I knew we'd need to find someone – and I wanted someone GOOD.
I also asked God if it were possible, to help us find a Christian instructor.
I was having Mexican lunch with my friend Diane Bishop one day, and at the end of the conversation, I asked Diane if she happened to know of anyone who taught violin lessons.  She did! Years ago, her stepdaughter Hannah had taken lessons from a public school teacher, Emily.
I messaged Hannah on Facebook to ask her if she knew Emily's number, then called Emily and she called back promptly. Emily has been teaching students for 15 years. (She doesn't look old enough to have done that! She's beautiful and so sweet, and she looks like a young adult herself!) She not only teaches lessons, but plays very well herself. Leah began her lessons right away.
She's been taking the lessons for about a month and really likes it. Emily is teaching her music theory as well (how to read notes). Leah has to practice every day. It sounds like beautiful music to me!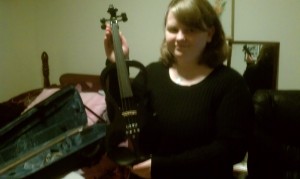 Leah still isn't sure what she wants to do career- or ministry-wise with her life. Ray says we shouldn't push her, but has exhorted her that she needs to start setting other goals for her life. She will either have to go to college, vocational training school, or work eventually. I'm also encouraging her to create a bucket list – making a list of all the things she'd love to do throughout her life.
We are talking to her about signing up for at least one art class at a community college. She is an amazingly gifted artist.
But I'm so proud of her for beginning violin lessons and so excited she's learning to play!
What is something you or your child has always wanted to do? Don't wait! God wants you to use the gifts that are inside of you for His glory.
***These are affiliate links. I only share about products or services I've used myself or highly recommend. You can purchase the item without my affiliate link, but I'd appreciate it so much if you would use my affiliate link! Thank you!






by