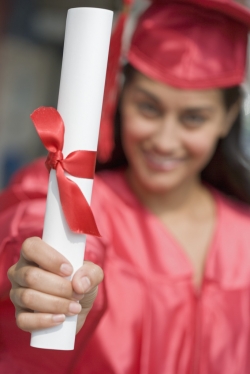 Graduation is around the corner for many public school and private school students. Originally I was planning to graduate Leah in May or June this year, but after praying and thinking about things lately and talking with Ray, we are postponing her graduation until later this summer.
Of course, Leah isn't exactly thrilled about this – she doesn't want to graduate "later" than her public school and private school friends – but I can't in good conscience graduate her from high school if Ray and I believe she isn't ready yet. There are some subjects/topics/skills we want her to truly master first before letting her spread her wings to fly and soar. This means college will be postponed, if she decides to attend (she doesn't know yet if she wants to go. We are praying for God to show her what to do.)
Just a few of the "must master" requirements before Leah graduates are:
Passing her drivers' test and getting her driver's license (I am hoping this will happen within the next 2 weeks! We have been practicing more this week on parallel parking and right turns!)
Reading more classics in literature, such as Dickens, Jane Austen, and Alexandre Dumos
More knowledge and understanding of major wars in U.S. History
More proficiency in math skills to prepare for the SAT
More cooking/baking skills
Memorizing Psalm 23, Psalm 91, and the Love chapter
Knowing the names of the apostles and women who followed Jesus
Knowing some of Jesus' parables
Having a "life verse" and memorizing it
Knowing how to fill out a job application and interview well
Knowing how to change the oil in the car
Knowing how to change a tire on the car
Wilderness/Survival Skills.
I made a master checklist, and am checking these off as she demonstrates mastery of them. (Some she already has mastered.) These are a few of the ones that we believe are the most important (other than her relationship with God and improved social skills. Forbes says that outstanding social skills can help with climbing the corporate ladder with great speed.
We want to make sure she is properly prepared to be on her own once she leaves home. Above all, we want her to have a passionate, sincere faith in Jesus Christ, obeying God and doing what He has called her to do and to be. We also want her to be healthy, happy, and successful in whatever she chooses to do.
"Success" is interpreted in different ways by people. From the blog The Life Without School Community, which I just found tonight by my sometimes-friend Google, here's a list of questions for you and me to ponder as homeschooling parents:
What is success?
What do children need in order to feel successful?
What do children need in order to be successful?
Is success a product or a journey? or both?
How does one measure success?
Can one measure success for another?
What does one need to be successful in our society and how does one attain that success?
How does one define a successful education and a successful "student?"
Is a "good education" necessary for one to be successful?
What would you consider to be "success" for your homeschooled child after she or he reaches adulthood? What would that look like? Please share your comments below.
If I have the gift of prophecy, and know all mysteries and all knowledge; and if I have all faith, so as to remove mountains, but do not have love, I am nothing. – 1 Corinthians 13:2, NASB







by