Our school year tends to follow the public school system's schedule, but we take off longer for some holidays and usually wind up schooling during some of the summer. We're wrapping up this school year, will take off the month of August, and start again in early September.
Last week we went on a field trip to the Kansas City Zoo, where we saw the new polar bear exhibit. He was pacing back and forth frantically, wanting out of that confined area!  All I could think as I looked at him was that he wasn't pure white and fluffy like the cute pictures showed (he was dirty), he wanted out of there, and he had to be so HOT!  It has been in the 90's lately in Kansas City– PLEASE!
This weekend we tried a hands-on project for science using the Smithsonian Giant Volcano Kit, available on sale at Amazon. We've never made one before, so it was fun.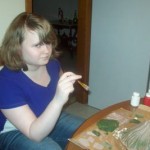 We first had to make the plaster mold, and let it dry for 24 hours. (Their idea of giant and mine are two different things!) Leah then enjoyed painting the volcano mold. We set the volcano outside on a little table covered with an old sheet and newspapers. The project was really messy, so you want to be sure to protect the area where you'll be doing the experiment with sheets and/or newspapers if you do it inside your house.
I was disappointed that the tablets that came with the kit and the club soda didn't work at first. Luckily, Ray was off work this weekend and he added vinegar and baking soda to the mix, which did the trick. Since the instructions had warned us in capital letters, STAND BACK, I was expecting almost an explosion – that's why you hear me telling Leah in the video, "Leah, get back!" 
So I was surprised at how "small" the eruption was. However, the vinegar and the baking soda did make it finally work, so I was happy about that and Leah enjoyed it.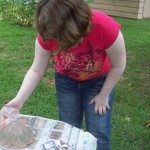 Notice in the video how I kept telling Ray to "do it again," lol. I thought it was cool.
Be sure to add fun, hands-on projects to your homeschool for science, art, and other subjects , especially if you have visual/hands-on learners like Leah is.
Video – volcano kit
The baking soda and vinegar did the trick from Beth Jones on Vimeo.







by