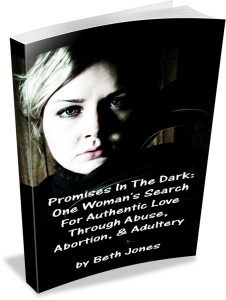 Yea, I know. It's been forever since I've posted here. No excuses! Just life happening.
Right now I'm working on a new ebook, Promises In The Dark.  Its theme is God's promises versus the world's promises. The world promises so much, yet comes up empty – and often its promises are LIES. God's promises are true and forever, and fulfill and satisfy you.
The deadline for this book was last year. Just so much going on!
My new deadline is March 15, 2014. The plan is to put it on Amazon first as an ebook, then self-publish with the POD company Create Space, highly recommended by my speaker/author friend Karen Wells.
If you're not on my ezine list at http://www.BethJones.net, the main hub, be sure to sign up with your name and email address and you'll be first to hear about its release.
What about you? What are you working on right now with your writing – a book, an article, blog posts? Non-fiction or fiction? Leave your comments below. I'd love to hear from you!






by