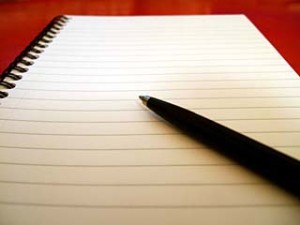 There is nothing scarier for a writer, and yet more exhilirating, than a white page. The white is your breathing space – and yet it leaves you so vulnerable. What if you mess up – with spelling, grammar, or worse, it sounds so silly, bland, boring? This can freeze you up and you get stuck.
One thing that can help with writing are writing prompts. At Daily Writing Tips blog recommended  on ProBlogger, you'll find a great post on Writing Prompts. A writing prompt is a topic around which you start writing down ideas to give you something to focus on as you write. You can stick closely to the topic or wander off….(which tends to be my style!).
Take one or two of these prompts, and jot them down. "His feet were already numb. He should have listened," or "She woke, shivering, in the dark of the night."  Then run with it. 
I also recommend not punctuating, not paying strict attention to spelling or grammar. Tell the internal editor with the critical eye to just sit down and be quiet. Don't listen to him or her – just write.
What did you come up with?
How do you get unstuck in your writing?  Leave your comments below.






by