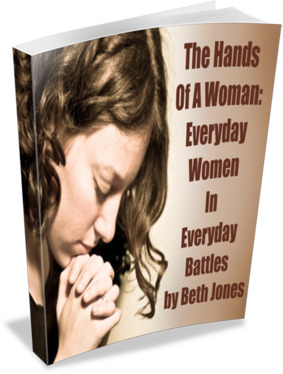 Hey, I wanted to give you a heads-up.  I've changed things around a little for my new ebook on women and spiritual warfare.  I did have an update list at www.bethjones.net, where you could sign up to get the discount for the ebook.
 But over the last month, I've had a couple of people working on a new website and a new page for the ebook. You can now go DIRECTLY to the new site at http://womensbattles.com to buy it.   When you sign up for my special report there (click on the special report graphic or the link at the bottom of the home page), you will be able to get the ebook at a 25% special discount.  Right after you sign up for the report, you'll receive an Aweber email from me with the link to the temporary sales page. (I'm working on a new sales page now., and it will be up soon.)
Or you can just click here to go directly to the temporary sales page. With this 25% special discount – you pay just $15, which includes my study guide that covers each of the 10 chapters and Cindy Rushton's Castles Under Fire audio bundle set.
I've had great, positive feedback from this ebook, and I think it will bless you! It contains 8 women's powerful, inspiring, true stories – their most difficult spiritual battles. Learn how they overcame them with unrelenting faith in Christ.






by