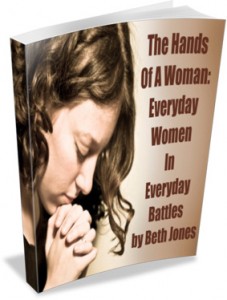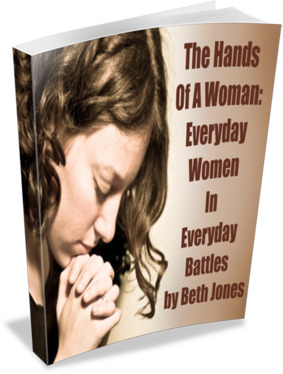 Over the last couple of months, I've been working on my new ebook, The Hands Of A Woman: Everyday Women In Everyday Battles. It took longer than I anticipated, but the actual writing part is done. I am so excited about this!
The ebook is now available to those who are on my update list at my main website, www.bethjones.net, before its official launch the third or fourth week in May – AND those who buy it now receive a special 25% discount off the regular price of $20. So you only pay $15!
When you buy it, you also receive complimentary bonus gifts of my study guide that covers each of the ten chapters of the book and Cindy Rushton's incredible Castles Under Fire audio bundle set. (Cindy is my writing/business coach. She is amazing!)
As Christians we are in a war every day with our enemy, Satan. This ebook shares about the everyday battles that women face today – and how we can have victory through faith in Christ.
This ebook is 120 pages long, has solid Biblical content, and has an application section following each story. It contains eight women's stories that are heart-wrenching and powerful. You will be encouraged and inspired.
To get your copy today at the special 25% discount (a limited time sale!), go to www.bethjones.net and sign up with your name and email on my update list. It's on the right sidebar under the little red pencil (it's NOT the ezine, but the opt-in form underneath that). This ebook will bless and encourage you!






by