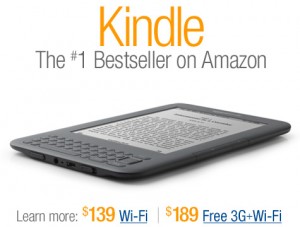 Technology is changing rapidly, and it is changing the face of writing and publishing. One hot trend right now is putting your ebooks, special reports, and tip sheets on the Kindle. 
I have been praying about this, and this week made a decision to put my baby, my ebook Walking With God, on the Kindle.
It is now available on the Kindle for the ridiculously low price of 99 cents!
I will not keep it at this rate long, so if you, family, or friends have a Kindle, now is the time to get my ebook at a great price!
You can purchase my Kindle ebook  Walking With God right here.
After the purchase, it'd also really help me out for you to put a favorable customer review on my Amazon page, and rate it (the more stars, the better!) My friend Susan Evans already has an excellent customer review on there. Be sure to tell all your family and friends!
Do you have ebooks, special reports, or other documents you'd like published on the Kindle?
Below is a video by Denise Wakeman showing you how to upload and publish your ebook on the Kindle. It takes Amazon about 24 to 48 hours before it goes live, and  you do not have to have an ISBN number to do it. Easy!






by