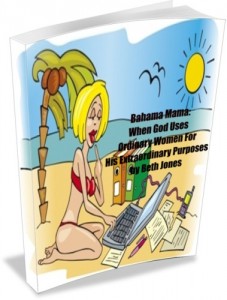 Since I last posted here, I took a cruise to the Bahamas!!! Speaker/author Tony Robinson of Well-Watered Woman Ministries asked me to be one of the keynote speakers at her Women of Destiny conference on a cruise to the Bahamas. It wasn't anything I had sought out or prayed for, and was totally unexpected when Tony asked me. I battled fears about going on the cruise ship, but I pressed through those fears – and am SO glad I did! It was an incredible blessing!
The Bahamas were beautiful, and I had a much needed, relaxing, de-stressing time there. The ocean in the Bahamas is green-blue, and so clear you can see right through it. The sand on the beach is white, with hardly any shells or rocks, so you can walk barefoot on it without it hurting your feet.
I had a great time getting to know Tony and her team and the other women at the conference, shopping, and eating the delicious food on the cruise ship each day. As Tony said, you go on a cruise primarily for the food!
God did great things at the conference and on the islands. I wrote all about the trip in my newest ebook, Bahama Mama: When God Uses Ordinary Women For His Extraordinary Purposes.
You can find out more about this great little ebook or purchase it by clicking here. It's just $5! Get your copy right now.
You will love it! It includes beautiful pics of the Bahamas and my YouTube video links.






by