My husband Ray has been encouraging me for awhile to write my first fiction book. I've always bawked, saying that I'd never done that before, but then I hadn't ever written a book before when I wrote my first one! Finally this year, I decided to just go for it and do it!
My first fiction book, Storm Tossed, is due to be released in 2015. I've been working on it the last several weeks. I found the beautiful cover at Istock and hired a graphic designer to design the eBook cover for Amazon. I love it! What do you think?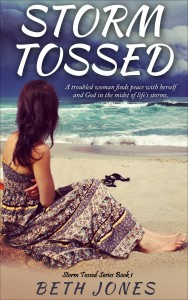 The book is about a Christian woman, Rachel, who travels to Destin, Florida (a play on the word "destiny" and because I love the ocean!) to get away from everyone and everything and really think and pray about her life: her deeply troubled marriage to her husband Jackson, their unhappy but extremely creative daughter Faith, the strained relationship Rachel has with her stepdaughter Autumn, and Rachel's chaotic writing career.
When Rachel goes to Florida, it is hurricane season, but she thought she'd be okay. Hurricane Ana strikes while she is there. Rachel has to face the storm not only outside, but within herself. Only Jesus can give her the peace she needs.
It's got a LOT of autobiography in it, which wasn't my intent when I began writing it, but that's the way the book is taking shape! My goal is to have it released on Amazon by July 2015. 
To my surprise, the manuscript is becoming longer in length than I thought it'd be, and it's now novella length. Ray is joking that it's soon going to be a novel.
To be first to hear about this eBook's release and public launch, sign up with your name and email address here at The Writing Room at the top of the page on the right hand side. You'll also receive my free gift, A Cuppa' Muse, and my new updates.






by